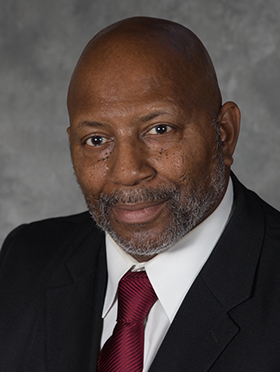 Stepping Up to Make a Difference
Pink Trammel
Volunteer Recruiter
CASA of NE Texas
LT Class of 2018
Pink Trammel graduated from Arkansas High in 1979. He attended the University of Central Arkansas on an Athletic Scholarship, graduating in 1984 with a Bachelor's Degree in Education. He began a career with Cooper Tire & Rubber Co after graduation, retiring in 2009. In 2010, he began to volunteer as a Court-Appointed Special Advocate. After six years of volunteering, he became a Volunteer Recruiter for CASA.
Pink says, "My mission is to encourage more men to become active in child advocacy. Every day in America 4 to 7 children die from abuse and neglect. My vision is to create a program to encourage more men to become active in volunteering for CASA. Fifty-one per cent of children in foster care are boys, however, only sixteen per cent of men volunteer. My goal would be to challenge men to be the change in these children's lives. Although, this may not be an easy task, I believe this can happen; it's happening in CASA programs across the country."
If he could make a difference of significance in Texarkana Pink's wish would be "to create more jobs than we know what to do with because then we could focus on building a better, happier, and safer city. One for the record books!!!" On Texarkana, Pink believes in the "great potential it has to be a remarkable place to live and visit."
His leadership wisdom(from LT) on making a difference in Texarkana? "Well, it's quite simple really, you don't have to be out front to lead: you can make a difference just by finding what it is you are passionate about in your community and then go for it."
What does leadership mean to you?

"To be willing to be lead, you must be willing to listen to others and respect others point of view, to learn about your community and get involved. Someone is always watching"

Pink's passion is always for the health and safety of children and our seniors, and it is where he willingly invests his time and energy, knowing that "They are our most vulnerable and most valuable resources."

What do many people not know about you that you would to share with us? What are some of your passions and hobbies?

"I don't know the answer to that because the people that know me, see things in me that I don't always see in myself. And as for hobbies, reading, traveling when I can, enjoying great wine, cooking for that special person, good jazz and good conversation."

What do you most love to do in Texarkana?

"Go out to dinner. In my spare time, I enjoy cooking, reading, traveling and spending time with my grandchildren."

What do you most love about Texarkana, in general?

"Its location and the great potential it has to be a remarkable place to live and visit."
Share this post: