Want to have a list of 10 awesome things to do in Texarkana delivered right to your inbox every week? Sign up for the WeeklyLIFT today!
---
A T-TOWN TOP TEN
Things to do in Texarkana
May 22-June 4, 2017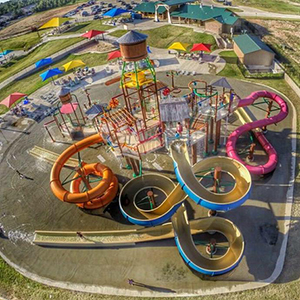 Holiday Springs Water Park. Opens May 27. Get a season pass and make it a habit!

AND



Rotary Splash Pad. Opens May 27. At Spring Lake Park - no charge.


Drawn Together. Saturday, May 27 | 12-2 p.m. Be part of a team creating an outdoor mural. Discovery Place. Children under 3 Free.


TODAY! Parks & Rec Summer Camp Registration Begins Monday, May 22 | Southwest Center. The camp is Monday through Friday from 9am-4pm for ages 6-14. from Monday, June 19 through July 21st, with a one week break from July 3rd-7th. Cost is $150.00 per child, this will include breakfast and lunch by TISD food service.




Movies in the Park for the whole family to enjoy: Thurs, May 25 - Secret Life of Pets and on Thurs, June 1 Moana - presented by City of Texarkana, TX Dept of Parks and Rec at Spring Lake Park. Movie begins at dark (approx 7:45). Bring your blankets or lawn chairs; enjoy the popcorn!


Q&A Happy Hour with AR Lt. Gov Tim Griffin and AR State Senator Jimmy Hickey. Thursday, May 25 | 4:30-6:30 p.m. CONNECT and TUNE IN for government engagement, networking at Hopkins IceHouse downtown. Hosted by the Greater Texarkana Young Professionals. Heavy hors d'oeuvres and live music. $5 cover charge.


LEARN!



Open Book Series. Tuesday, May 23 | 6-7:30 p.m. A reading, discussion and book signing of Untied Shoelace by local author Pam Kumpe at the Ahern House.

Mental Health First Aid training program. Wednesday, May 24 | 8 a.m.-5 p.m. At Texas A&M University-Texarkana as part of the Extended Education and Community Development, with the Counseling Center. "This important educational effort goes a lot further than emergency intervention; it really helps people understand the shroud of fear and misjudgment facing individuals and families who experience mental illnesses and addiction."




FUN SUMMER SIGN UPS TO CHECK OUT:

Second Annual Cancer Survivor's Day Celebration. Sunday, June 4 | 4-6PM. Celebrate life! Honor and celebrate all cancer survivors in our community and those who care for them. Hosted by CHRISTUS St. Michael. Cake and punch, testimonials, balloon release.




This Week's Totally T-Town Fave Foods