T-Town Top 10: Week of Oct. 15-21, 2018
SPOTLIGHT ON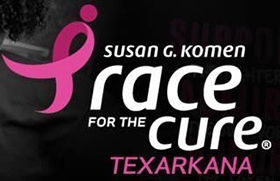 1. 2018 Susan G. Komen Race For The Cure Texarkana
Saturday, Oct. 20
RACE DOWNTOWN! Celebrating the 20th year of giving back to the Texarkana Community, race opening ceremonies begin at 8:30, with 5K at 9AM and Family Fun Stroll at 9:30. Proceeds raised will go towards community grants that provide breast health services such as screening, diagnostics, and education. For more: 903-791-9585. Register online at www.komenarkansas.org.
2. Party in Pink
Thursday, Oct. 18
Silvermoon on Broad, 7-10 p.m. Drinks, dinner, live music by Robert St. John Band - silent auction and FUN!  For tickets: 903-791-9585. or at www.komenarkansas.org.
and don't miss...
3. Monday, Oct. 15
PLACE fall Keynote speaker  
TAMU-T University Center Eagle Hall, 7 p.m. Texas A&M University-Texarkana and the Program for Learning and Community Engagement (PLACE) will host the fall 2018 keynote speaker on Monday, October 15th. Author Cordelia Fine from the University of Melbourne will be discussing her book, Delusions of Gender, which explores "How Our Minds, Society, and Neurosexism Create Difference." Free and open to the public.
[email protected]
4. Tuesday, Oct. 16
Luncheon with the Law
12-1 p.m. Join the TXK, AR Police Department for beneficial training and knowledge, discussing criminal trends and prevention, benefits and development of neighborhood watches, surveillance camera registration, and community oriented policing. For more information, or to sign up, contact Inv. Rick Cockrell by phone or text at (903) 824-7641 or email at [email protected].
5. Tuesday, Oct. 16
Al Fresco concert presented by Texarkana Regional Chorale
CHRISTUS St. Michael Imaging Center, 6 p.m. FREE. Limited seating. Marc-Andre Bougie conducting, Mary Scott Goode, accompanist.
6. Thursday, Oct. 18
Fall Festival at Spring Lake Park
5-7 p.m. The annual fall festival includes a hay ride, pumpkin painting, a costume contest, games, candy, bounce houses and more. This event is free and open to the public, from Texarkana TX Parks and Rec. 
AND  
Immediately following the fall festival, Hotel Transylvania 3 Summer Vacation will be shown as part of the fall Movies in the Park series. Movies will start at dusk, near the airplane, and are free and open to the public. Participants are encouraged to bring a blanket or lawn chair. Refreshments will be sold. 
7. Thursday, Oct. 18
Texarkana Cruise-In at Reggie's on Stateline Ave.
6-8 p.m. Reggie's is proud to host the Texarkana Four States Auto Museum monthly Cruise-In! Door Prizes, could rides, music and awesome people!  Every 3rd Thursday of the month - featuring special $6 cruise-in meal - hot dog, chips and drink.  
8. Friday, Oct. 19 
Friday Night Lights - High School Football
Arkansas High vs. Hot Springs @ 7pm
LE vs. Spring Hill @ 7:30pm
PG at Gilmer @ 7:30pm
Texas High at Sherman @ 7pm

9. Saturday, Oct 20
After dark walking tour with Texarkana Museums System
7 p.m. "Gracefully Southern: Mourning Customs of the Victorian and Edwardian South" an after dark walking tour combining entry into the first floor exhibitions at the Ace of Clubs House and P. J. Ahern and sites in between. This tour will start at 7pm at the P. J. Ahern House (403 Laurel St, Texarkana AR) and end at the Ace of Clubs House (420 Pine St, Texarkana TX).  ending with light refreshments. The cost is $15, $10 for Museum Members. Attendees must be 13 or older. Tickets must be purchased in advance by October 16. Bring a flashlight. [email protected] or phone 903-793-4831 for the members' promo code to be added at check out. 
10. Saturday, Oct. 20
Friends for a Cause: Firewalk
UAHT - Texarkana Campus. Friends For A Cause is hosting a life changing event in Texarkana, TX. Friends for a Cause primary mission is helping cancer patients of any type cover costs or meet whatever needs that insurance may not cover. Claudia Weber is a Certified Firewalk Instructor & Empowerment Coach. Authentic firewalking is the act of walking barefoot over a bed of glowing red hot coals at a ceremonial fire. Records of firewalking go back as far as 4000 years. Firewalking has always been used to transform an individual's energy and spirit into empowerment, strength, motivation, enlightenment and healing. The participants in the firewalk are walking for different purposes. Some are walking for themselves, some for loved ones and some for a cause. This is a life changing and unique event geared at empowerment, celebrating life, and honoring those we've lost. We are "FRIENDS FOR A CAUSE". Any Friend. Any Cause. It ALL Matters. Learn more.  
---
WTL TXK Partners




Thanks to Express Employment Professionals, Ledwell Office, Commercial National Bank, and BancorpSouth for supporting the WeeklyLIFT.
Contact us to learn how you can become one of our WeeklyLIFT partners!
Share this post: