T-Town Top 10: Week of Aug. 27-Sept. 8, 2018
T-TOWN TOP TEN
Things to do in Texarkana Aug. 27-Sept. 8, 2018
SPOTLIGHT ON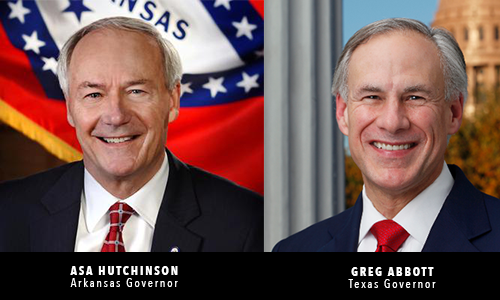 1. AR-TX REDI launch with Arkansas Governor Asa Hutchinson & Texas Governor Greg Abbott
Sept. 4, 3 p.m., U.S. Post Office & Courthouse in Downtown Texarkana. EVERYONE IS INVITED AND ENCOURAGED to be in the crowd at our beautiful downtown post office on September 4th for a historical joint appearance of Governor Greg Abbott (TX) and Governor Asa Hutchinson (AR) who will headline the unveiling of AR-TX Regional Economic Development Incorporation (AR-TX REDI)—an organization formed to serve as a catalyst for regional growth and a strengthened economy for southwest Arkansas and northeast Texas. AR-TX REDI will promote the value of the area's unique resources along the regional interstate corridors in Bowie (TX) and Miller (AR) Counties.
"Texarkana USA is the anchor of converging interstate corridors rich with opportunity and resources," said Sonja Hubbard, AR-TX REDI President. "Our region is poised for exponential economic growth within the logistic, manufacturing, transportation and medical sectors, but we need a unified vision to successfully connect our resources with potential employers. The AR-TX REDI model will benefit the entire region and work across state lines to attract new commerce. A win for any area within our region is a win for us all."
TC President James Henry Russell says, "These men have the ability to steer economic development opportunities to our area and to provide financial benefits to businesses and industries that choose to locate here. This is our [YOUR] chance to show them that we mean business". Be there.
Working together to bring new business and industry to the Texarkana MSA.
Learn more at ar-txredi.com and get event updates here.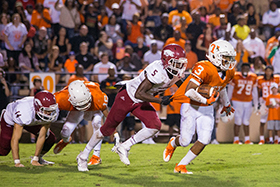 2. Friday Night Lights
Support all four city districts as they debut their 2018 gridiron teams to the locals on home fields.
Liberty-Eylau at Arkansas High: Aug. 31, 7 p.m.
Pleasant Grove home opener against Henderson: Sept. 7, 7:30 p.m.
And don't miss one of Texarkana's biggest traditions: the cross-stateline Arkansas High vs. Texas High game! Sept. 7, 7 p.m., Grimm Stadium
And don't miss…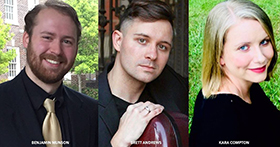 3. Monday, Aug. 27
Texarkana College Music Faculty Recital
7:30 p.m. at TC's Stilwell Humanities Music Hall. Don't miss this opportunity to hear TC's world class music faculty as they showcase their myriad talents: New faculty Cellist Brett Andrews, Flutist/Piccoloist Kara Compton and Guitarist Benjamin Munson, (who will be offering instruction in strings, woodwinds, and guitar, respectively), along with seasoned TC instructors: Pianist Mary Scott Goode, vocalist Janice Aiken, Trombonist Steve Bennett (brass), Organist Larry Dymott, and Percussionist T. Jon Kelly, and Marc-André Bougie (music theory, ear training, chorale, and music appreciation).
Plus
Register for Community & Business Education Classes at Texarkana College
Classes available for learners of all ages. Includes personal enrichment, computer technology, fitness, and Sage courses for ages 46+. New this fall: Parent & Child Yoga, Scuba Diving, and more! Learn more.
4. Friday, Aug. 31
Scottie's Grill features Randy Rogers Band
Randy Rogers Band is a regular chart topper. Their last four studio albums made their debut at #1 on the iTunes Country Albums Chart. Don't miss them - and while you're buying tickets online, check out their full calendar of upcoming concerts.
5. Saturday, Sept. 1
Kids Workshops at Home Depot (9 a.m.) & Lowe's (10 a.m.)
Home Depot kicks off football season with a workshop where you and your child build–and personalize–a portable action-packed field goal game to test your aim. Simply flick or drop-pluck the ball through the goal posts to score a field goal worth three points. All kids leave with their craft, a FREE certificate of achievement, a Workshop Apron, and a commemorative pin while supplies last. Ideal for ages 5 through 12. Kids must be accompanied by a parent or adult at all times. Check schedules at Lowe's and Home Depot.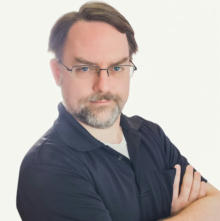 6. Saturday-Sunday, Sept. 1-2
Ark-La-Tex Comic Con
Texarkana Convention Center. Costume contests Saturday and Sunday. Come meet the Comic Con Celebrities! Learn more.
7. Sept. 1-3
Holiday Springs Water Park
Last weekend to soak up the sun at the park until next May! Great way to cool off after a busy busy back-to-school month. Learn more.
8. Wednesday, Sept. 5
Mayors' Joint Report of the City
9 a.m., First United Methodist Church Arkansas. Admission $5. RSVP today to [email protected].
9. Saturday, Sept. 8
Bow Ties & Handkerchiefs
2-3 p.m., TMS Discovery Place. How many bowties do you own? Handkerchiefs? How many did you make? Come down to Discovery Place to make your own bowtie or handkerchief! Kids are welcome; $8.00 per person ($3 for Texarkana Museum System Members). Learn more.
10. Sunday, Sept. 9
Week 1 of the NFL Season Starts
Join your friends at one of the many local restaurants or bars or around town that's made for this very occasion, and settle in for fun and the games.
---
WeeklyLIFT Partners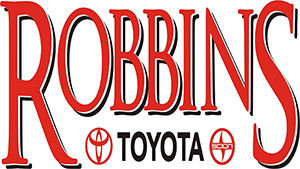 Thanks to Express Employment Professionals, Ledwell Office, Robbins Toyota and BancorpSouth for supporting the WeeklyLIFT.
Contact us to learn how you can become one of our WeeklyLIFT partners!
Share this post: