T-Town Top 10: Weeks of July 30-August 12, 2018
T-TOWN TOP TEN
Things to do in

Texarkana July 30-August 12, 2018
SPOTLIGHT ON
1. Texarkana USA's exciting Interactive Scavenger Hunt
Ready, set, go! Gather friends or family and get going! Here are the official rules for the Bending the Rules II: George Tobolowsky Outdoor Sculptures Interactive Scavenger Hunt. You'll find hints on the locations of each piece of public throughout the scavenger hunt; feel free to post locations you have found. Get up close and personal (except the roundabout sculpture) and share your impressions with the rest of us. Each of the nine sculptures have signs with QR codes to submit your entry or you can submit at visittexarkansdistrict.com. Learn more.
2. Wild About Wellness
Saturday, Aug. 11, 9 a.m.-12 p.m.
Four States Fair Entertainment Center. Make sure your kids get those immunizations they need to get back to school, (don't forget your shots records and insurance information if you have any). Besides the opportunity for other health screenings, there will be games to play, bounce houses, some pretty great prizes to win, plus door prizes, free kid ID cards, Darby Games and more! PLUS handcrafts, face painting, freebies, magic and most of all, kids having fun. Learn more.
and don't miss...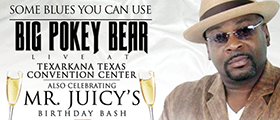 3. Friday, Aug. 3
Big Pokey Live/Mr. Juicy Birthday Bash
7-11:30 p.m. at Texarkana Texas Convention Center. Featuring Ms. Vickie Baker, Mr. Juicy, Naquita Elmore and Mr Side Piece himself (Big Pokey Bear). DJ HOLYFIELD will be in the mix keeping it live southern style! Tickets will be available at The Golden Lady restaurant and GQ Fashion. For more info contact Douglas Da Arnold at 903-691-9235. Learn more & purchase tickets.
4. Friday, Aug. 3
Silvermoon Children's Theatre Mini Show
5:30 & 7 p.m.: "The Greatest Show, Man" (the result of a one-week, intensive drama camp for kids). $5. Silvermoon on Broad Theatre. Fun. Amazing. Short. Inexpensive. Downtown.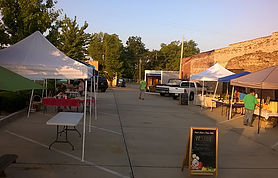 5. Texarkana Farmers' Markets
Through Aug. 4
Located at 305 Texas Blvd in historic downtown Texarkana, the Texarkana, Texas Farmers' Market is a seasonal open-air farmers' market featuring quality locally grown, natural produce. The market is open Tuesday, Thursday & Saturday 7 a.m. to 12 p.m. (or sold out) through August 4.
Two weeks to go until schools begins - and you're running out of entertainment and event ideas for what to do - with yourself, your kids, your last visits from family and friends... just to enjoy the calm before the "storm" action-packed schedules of the coming program year... Take advantage of the time to enjoy...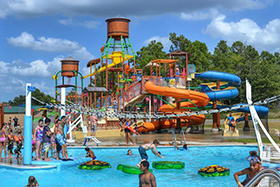 6. Holiday Springs Water Park
As you count down the days for making summer memories and cooling off with the kids, take advantage of Texarkana's fun and family-friendly water park. These are the final days with weekday hours of operation, so better go now! Learn more.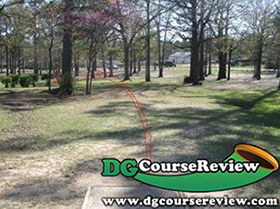 7. Disc Golf
Join the growing numbers who enjoy playing the 18-hole disc golf courses at Spring Lake Park or Lake Wright Patman. Contact the Texarkana Disc Golf Association for details. (Who knew?) Learn more.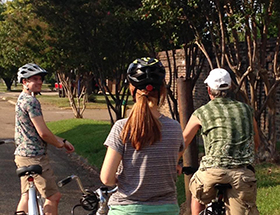 8. DISCOVER Downtown Treasures
Go to Texarkana Chamber of Commerce to get your Discover Texarkana CD, a driving tour with details on the history and uniqueness of our community treasures ... (do you know where the century-old fountain is downtown? our pocket park? the skate park? the Art Wall?) OR! get your exercise... and sweat it off! Make it a walking tour to build your 10,000 steps, or borrow several of the downtown community bikes available at the Museum of Regional History and make it a biking tour.
And TWO special opportunities to put on your list:
9. TRAHC Seeks the Next Whitney Houston
TRAHC is looking for Texarkana's own local Whitney Houston tribute artist! Submit a singing video to Perot Theatre or TRAHC's Facebook page or use the #TGLOATXKSingOff to be entered to win 2 front row tickets to The Greatest Love Of All show on August 24th. Must be submitted by August 3rd! #ThanksToTAAC #TRAHCPresents #THATNote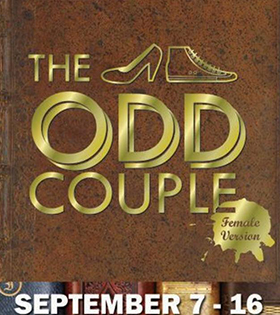 10. Monday, July 30 (TODAY)
TexRep's "The Odd Couple" Auditions
7 p.m.,Stilwell Theatre on Texarkana College Campus. Sign on NOW! TexRep is ramping up for yet another outstanding theatre event, produced, presented and supported by the citizens of Texarkana USA: the female version of the Neil Simon audience favorite "The Odd Couple". If you are interested in auditioning for a chance to be ON stage as part of the cast: auditions are Monday, July 30 at the Stilwell Theatre on the Texarkana College campus. OR if you want the fun of helping out backstage or in building set or in finding or making props, come turn yourself in! Very friendly and multi-talented folks - great fun to work with - take the plunge! Learn more.
---
WeeklyLIFT Partners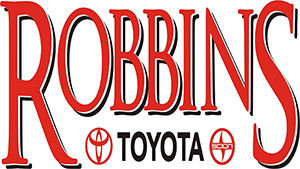 Thanks to Express Employment Professionals, Ledwell Office, Robbins Toyota and BancorpSouth for supporting the WeeklyLIFT.
Contact us to learn how you can become one of our WeeklyLIFT partners!
Share this post: